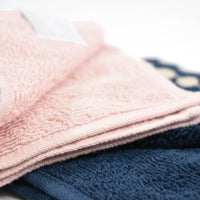 The simple and cute design is made with a series of small and large dice, using a technique called "extraction printing" to bring out the texture of the fabric and give it a soft touch.

The colors are applied not only on the front side but also on the back side, giving it a luxurious finish.
The muffler towel comes in navy, gray, and yellow, and the handkerchief comes in navy and pink.


Certification number: 2018-1229
-----------------

Composition: 100% cotton
Muffler Towel (KA-01020)
size: 33 × 180 cm
price:¥2,200 (tax included)
weight: ~100 g

Handkerchief (KA-01008 )
25 × 25 cm
$880 (tax included)
~25 g