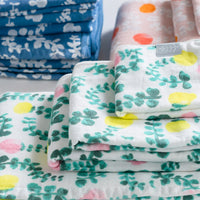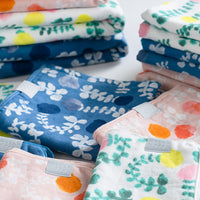 The freshness of a large flower bud is depicted by watercolors in this pattern.

In order to express the delicate touch of hand-painting, many prototypes of the print were made.
By using finer thread than usual, matching the backing thread to the color of the print, and adding decorative stitching on both sides, the result is a luxurious and elegant finish.


Certification Number: 2018-1252
-----------------
Composition: 100% cotton
Bath Towel (KA-03040)
size: 60 × 120 cm
price:¥4,400 (tax included)
weight: ~225 g

Face Towel (KA-03017)
size: 34 × 80 cm
price:¥1,870 (tax included)
weight: ~90 g

Wash Towel (KA-03010)
size: 34 × 35 cm
price:$1,100 (tax included)
weight: ~45 g

Handkerchief (KA-03008)
size: 25 × 25 cm
price:¥880 (including tax)
weight: ~20 g