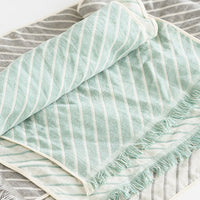 The simple diagonal-striped design can be used by on any occasion.

It is lightweight, so it will be comfortable even in hot weather, making it recommended for daily use.

Imabari Towel Certification Number: 2017-1769
-----------------

Composition: 100% cotton
Muffler Towel (MF-02715)
size: 34 x 180 cm
price:³,650 (tax included)
weight: ~100 g

* Due to product replacement, this product is only available while supplies last.